Welcome!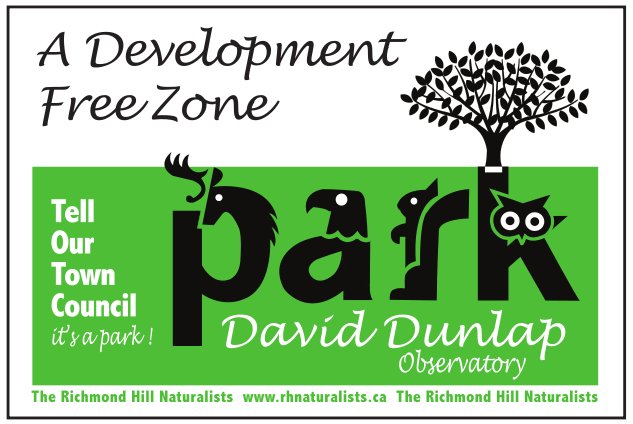 More and more "Development Free Zone" signs are popping up all over Richmond Hill. Please support our growing community effort to preserve the Dunlap lands as a public park and community observatory. Sign Up today to receive regular updates, obtain a DDO Development Free Zone lawn sign or volunteer.
Latest News
The Richmond Hill Naturalists and community groups such as the DDO Defenders continue to advocate for the complete protection of the David Dunlap Observatory and Park. Please call your local councilor (905-771-8800), write a letter and/or buy a sign. Tell Town Council you want LEADERSHIP & ALL Dunlap Parklands protected! If you support the community drive to preserve the entire Dunlap Observatory property, please purchase one of our beautiful lawn signs. Our volunteers will be happy to deliver a sign to your door. Contact DDOSigns@rhnaturalists.ca for details.

In 2007, the Ontario government permitted the University of Toronto to put the historic David Dunlap Observatory and Park up for sale. In July 2008, the property was purchased by Metrus for $70-million. Despite these events, the Richmond Hill Naturalists, along with many local residents are still working hard to protect the Observatory buildings and as much of the property as possible. The RHN participated in the January 2009 Ontario Conservation Review Board hearings to argue for 100% protection and heritage designation of the Dunlap Lands. It is our hope that the historic Dunlap Observatory will one day reopen as a working museum and research facility and will continue to provide a rich astronomy education experience for generations of Canadian families.

Given the world-renowned history of the Dunlap property as a centre of astronomical research and its importance as a public space and urban wilderness, it deserves to be protected by the Ontario Heritage Act so it can continue to be enjoyed by current and future generations. You can help achieve this goal by by writing letters and donating to our legal defense fund and by registering your support on our Online Petition.

We also hope you will take the time to get to know the DDO through the articles, photos and videos on this site.

Why the David Dunlap Observatory must be preserved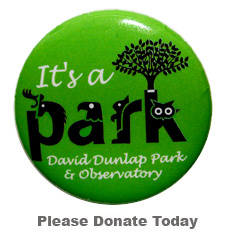 DDO in the Media